Supplement that helps the body respond to stress in a balanced way thanks to the three key substances Ashwaganda, Rhodiola, Elefterococcus-Siberian Ginseng and the B vitamin complex.
USEFUL FOR
Helping with metabolic stress
Supporting normal hormone levels
Helping the body reduce peaks and falls in energy levels
Improve burnout fatigue
Stress is the body's hormonal response to stimuli that can be real (feeling cold, hungry, sleepy etc.) or mental (for example when one is afraid of losing one's job).

When a person is suffering from stress the hormones levels can have exaggerated responses which create imbalances on all levels.

When stressed, the body can often perform even at higher standards, but it is a condition that is not sustainable in the long term and will prove harmful to the body itself. Stress, therefore, is not only determined by external factors but also by the type of hormonal response produced by the body and nutritional deficiencies can lead the human organism to becoming even more imbalanced.

My Antistress contains Ashwaganda, Rhodiola and Elefterococcus-Siberian Ginseng which are 3 adaptogens considered the most powerful by the family of adaptogens and help the body to modulate its response according to the needs of the moment: if you need more energy, adaptogens help to increase the efficiency; and, if less energy is needed, adaptogens help to decrease the adrenergic functions at a physiological hormone level.

The Ashawaganda, in particular, helps to support normal thyroid function. The thyroid secretes hormones in response to physical and mental stress.
FUNCTIONS OF THIS SUPPLEMENT
My AntiStress is a supplement that includes three essential substances, namely Ashwagandha, Rhodiola and Elefterococcus-Siberian Ginseng with the addition of the vitamin B complex. It is beneficial in cases of physical and mental tiredness and promotes a more balanced stress hormone response preserving the equilibrium and harmony of the body.
FORMULA AND INGREDIENTS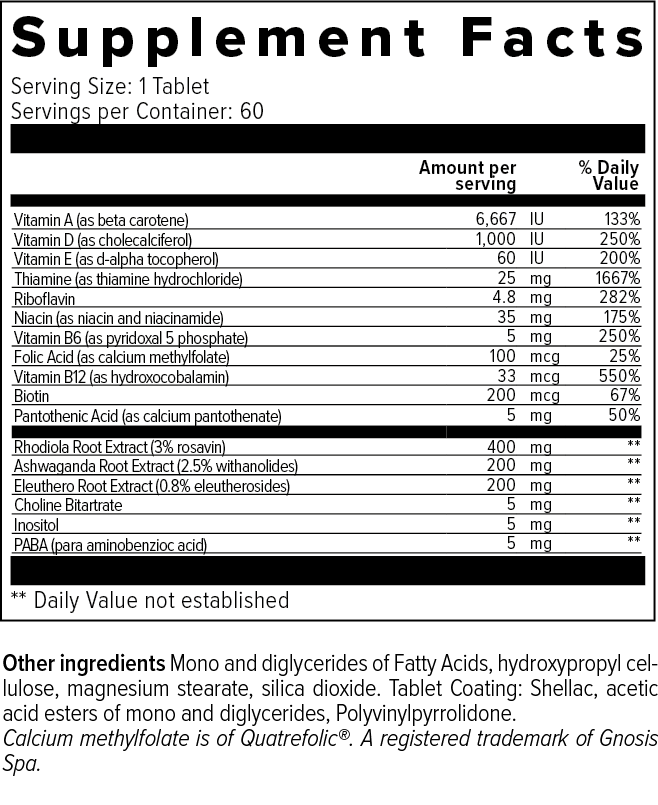 DIRECTIONS FOR USE
Take 1 tablet daily
WARNINGS:
Do not exceed the recommended dose without prior medical advice. Dietary supplements are not intended as a substitute for a healthy and balanced diet. For use during pregnancy, breastfeeding or for children under the age of 12 we recommend the advice of a doctor. Keep out of reach of children.
Store this product in a cool, dry place. This product contains no sugar or artificial sweeteners.
These statements have not been evaluated by the Food and Drug Administration. This product is not intended to diagnose, treat, cure, or prevent any disease.