The supplement My Turmeric is based on Curcumin (95% of which curcuminoids), Piperine, the active extract of Black Pepper, Quercetin and Soy Lecithin.
Curcumin is the active ingredient of the turmeric root which has always been widely used as a spice (curry). However, many scientific studies have recently shown numerous beneficial properties of Curcumin.
Black pepper has the remarkable property of enhancing the effects of Curcumin and actually increases its effectiveness by 2000%.
USEFUL FOR
Helping to the body reduce free radicals
Contributing to the health of the digestive system
Helping to strengthen bones and joint function
Contributing to digestive function and liver health
Curcumin is one of the most powerful natural antioxidants in the world.
For this reason, it is very useful in reducing the oxidizing free radicals which may help the body to slow down its aging process.
Curcumin also has other important properties such as maintaining a healthy digestive system, supporting healthy bones and joint functions, maintaining your digestive system and supporting a healthy liver.
FUNCTION OF THIS SUPPLEMENT
Curcumin can be found in nature in spices like curry that should be consumed daily in order to obtain the beneficial effects of Curcumin.
However, with modern food habits it's difficult to include a constant source of curcumin in our meals and above all, to ingest the right amount. Not to mention issues with the purity and quality of the type of curcumin you find in supermarkets in the form of spices. Between 80 and 400 grams of turmeric should be consumed to obtain a beneficial effect equal to that conferred by My Turmeric.
The purpose of this supplement is therefore to provide the body with the right daily dose of Curcumin in its purest and most effective form to support the health of our body.
PROPERTIES
There are many supplements on the market based on Curcumin but you must be very careful about the differences in quality if you want to get the best benefits for your health.
Firstly, it is important to check the amount of curcumin, it is essential that it contains curcuminoids, not simple Turmeric that contains only 2-5% of curcumin.
Curcuminoids are the active ingredient in turmeric and contain the full range of antioxidants extracted from it, this is why it is important to check the percentage of curcuminoids in the ingredients.
The standardized extract used in MY Turmeric contains 95% of curcuminoids, this is the exact percentage used in the major clinical studies on the subject.
It is also important to look for products that do not contain additives or excipients because they are toxic to your body. My Turmeric was created with vegetable capsules in order NOT to include any chemical elements or sugars that would only compromise its effectiveness.
Finally, scientific studies show that the active form of Black Pepper creates a synergy with Curcumin enhancing its absorption. Without the effect of Piperine, quercetin and soy lecithin the benefits of curcumin would be limited only to the level of intestinal cells and only a very small part would be absorbed systemically. It is for this reason that they were included in the product and the My Turmeric supplement was created.
FORMULA AND INGREDIENTS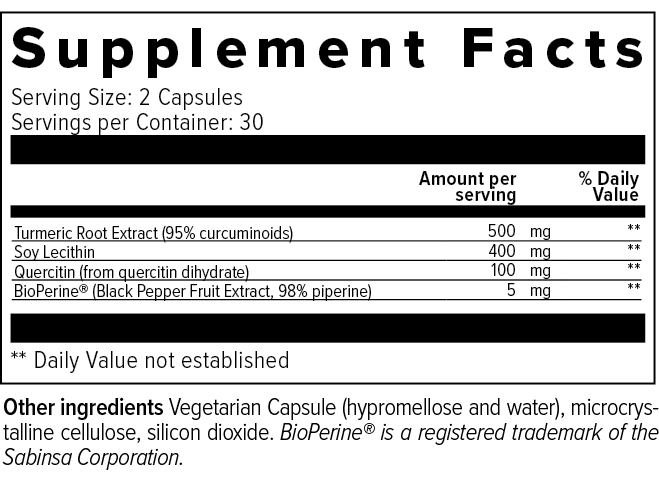 DIRECTIONS OF USE
Take 2 capsules daily.
WARNINGS:
Do not exceed the recommended dose without prior medical advice. Dietary supplements are not intended as a substitute for a healthy and balanced diet. For use during pregnancy, breastfeeding or for children under the age of 12 we recommend the advice of a doctor. Keep out of reach of children.

Store this product in a cool, dry place. This product contains no sugar or artificial sweeteners.
These statements have not been evaluated by the Food and Drug Administration. This product is not intended to diagnose, treat, cure, or prevent any disease.